Social Club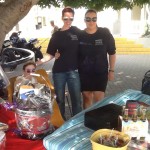 Two Rocks Volunteer Bush Fire Brigade Social Club
Two Rocks Volunteer Bushfire Brigade has a very active Social Club who assist behind the scenes to ensure that the Brigade runs smoothly & has everything it needs.  Various social events are organised by the Social Club throughout the year where Brigade members & their families can relax & get to know each other.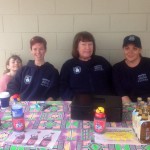 The Social Club also looks after the fundraising for the Brigade.  Their efforts are ongoing to ensure the bank account is topped up to provide for all those little "bits & bobs" which can add up to quite a lot over the year.  Many of our  minor expenses are "one-off's" for the new fire station and some (like Brigade t/shirts) are recurring expenses so the Social Club is always looking for opportunities to host events which provide our local residents with ways to support us on a "value for money" basis.
2015 was a busy year for the Social Club…
Grill'd in Ocean Keys Shopping Centre kindly included us in their March 2015 "Local Matters" competition.  Three community groups are chosen each month to compete for prize money – how it works is that the customers are each given a token and deposit it into one of 3 "jars".  Yay, we won and received a cheque for $300 from Grill'd which was put to very good use.
Also in March, we attended the Amberton Movie Night  where we chatted to the public & distributed promotional material to new residents.  And then on March 21st we attended the 2015 Capricorn Festival which was held in Charnwood Park, Two Rocks.   Our coconut shy game was a great success and all the local children won a prize and kept coming back for more.  In May we hosted a Quiz night & dinner at The Pickled Herring Restaurant in Two Rocks – great fun!
In June, we held our major fundraiser for the year at Bunnings Mindarie. Our profit on the day was $3,813 (plus the usual handful of foreign coins…)  Apart from selling food & drinks, we handed out colouring books & stickers to the youngsters & handy fridge magnets to the adults – many of the Brigade wives pitched in & helped too.
In August, we hosted a Father's Day Raffle down at our local shopping centre in Two Rocks.  And when it rained, we moved under the bus shelter!  A great day & our prizes were very much appreciated by the lucky winners.  We banked $890 from this raffle & we were also selling our designer stubby holders and made a whopping $1020 from those.
On October 18th, we participated in the CoW Fire Awareness Day held in Merriwa which was an enormous success and on Wednesday, October 21st 2015, we hosted another Quiz Night at the Pickled Herring Restaurant in Two Rocks.  This event was lots of fun so watch this space for news of our next quiz night.  In November, we hosted a mega Christmas raffle down at the Two Rocks Shopping Centre with six major prizes & three consolation prizes.  It was a very hot day but somehow we survived the heat & sold raffle tickets to every single person in Two Rocks…our main raffle ticket sellers were:  Moira, Anne, Lori & Storm.  We made $1178 from the raffle & $705 from sales of stubby holders – a very worthwhile day!
Also in November, we spent a day at Bunnings Mindarie handing out brochures & talking to local residents about being prepared for the upcoming bushfire season…and a week or so later our annual Bush Fire Ready Open Day at the Station had to be cancelled because all the firies were out at a fire.  Those of us left distributed brochures to local residents & addressed their concerns.
In December it was all about Christmas…our resident Santa was quite busy this year with three appearances at various community events.  And of course the Christmas Lolly Run where we patrolled the streets & parks and handed out bags of lollies to every child in Two Rocks.  Thankyou to Sean Young who is always happy to play Santa at these events.
Membership of the Social Club is free and new members are welcomed with open arms.
Please contact us via a Facebook message if you want to be a part of all this or just come along on the second Thursday of each month (from 7.30pm) to the regular Brigade meeting to find out more.
Volunteering for a local community group is always a worthwhile thing to do & becoming a member of Two Rocks Firies' Social Club is a great way to show your support for the people who help to keep your community safe.